Airlines
Our 10 airports are developed and designed in order to create a unique experience for visitors, so we invest in a variety of facilities and infrastructures such as shops, restaurants and entertainment areas.
They serve about 65 regular airlines, connecting the Portuguese regions with nearly 150 destinations around the world. The traffic of our airports grows every year, having reached 44 million passangers in 2016.
Our goal is continuous expansion of our infrastructures, with regard to service innovation, and investing increasingly in a greater experience for our partners and travellers.
We are always ready to explore new business opportunities for the airlines.
| | |
| --- | --- |
| Top 5 Airlines | Top 5 Markets |
| Tap Portugal | United Kingdom |
| Ryanair | Portugal |
| Easyjet | France |
| Transavia.com | Germany |
| Azores Airlines | Spain |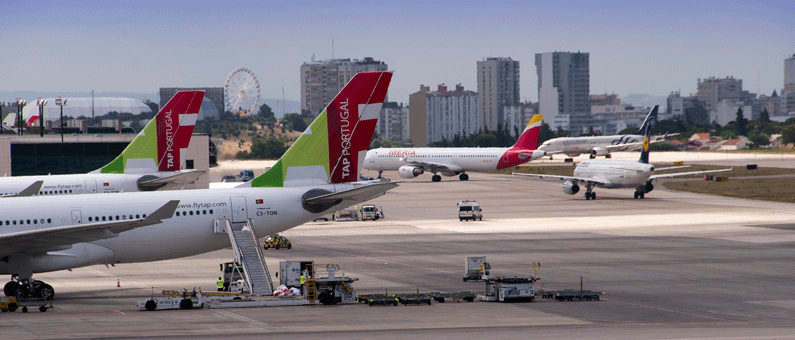 Welcome to Lisbon Airport.
Lisbon, a city waiting to be discovered by you!
Lisbon is Portugal's capital and certainly one of the most fascinating and picturesque capitals of Europe. Built on 7 hills, has several stunning panoramic views, monuments classified as world heritage and interesting museums.
In a region with roughly 3 million inhabitants, this city provides unforgettable moments and its location in the Western Iberian Peninsula grants easy access to most European capitals and short flight times all across Europe.
Lisbon offers plenty of activities, it has a rich cultural life, beaches, golf, surfing and other water sports and welcomed, in 2015 more than 5 million tourists.
Lisbon Airport serves more than 52 airlines flying to 118 destinations, which makes it the largest and most important Portuguese airport. It is also the gateway of Europe to Brazil, one of the most important centers for Africa and Europe's largest airport whith connections to South America.
In 2016, 22.5 million passengers travelled through Lisbon airport, which equals an average occupancy rate of 81%, representing a growth of 11.7 % over the previous year. Commercial transactions reached 182,927 (+ 9.9%) and available seats increased to 27,836,278 (+ 11.7 %).
At present, Lisbon airport has 2 Terminals:
Arrivals Terminal 1 – All airlines.
Departures
Terminal 1 -  Aegean Airlines,  Aer Lingus, Aeroflot, Aigle Azur, Air Algerie, Air Canada Rouge, Air Europa, Air France, Air Moldova, Air Nostrum, Air Transat, American Airlines, Arkia, Azores Airlines, Azul Linhas Aereas, Beijing Capital Aiirlines, Binter Canarias, British Airways, Brussels Airlines, Bulgaria Air, Croatia Airlines, CSA Czech Airlines, Delta Airlines, El Al, Emirates, EuroAtlantic, Eurowings, Fly One, Iberia, Israir Airlines, KLM, Lufthansa, Luxair, Orbest, Primera Air, Royal Air Maroc, STP Airways, Swiss, TAAG, TACV, TAP Air Portugal, Tunisair, Turkish Airlines, United, Ural Airlines and Vueling.
Terminal 2 - Blue Air, easyJet, Norwegian, Transavia, Ryanair and Wizz Air.
Lisbon Airport has a free transport service between the two terminals: Shuttle T2.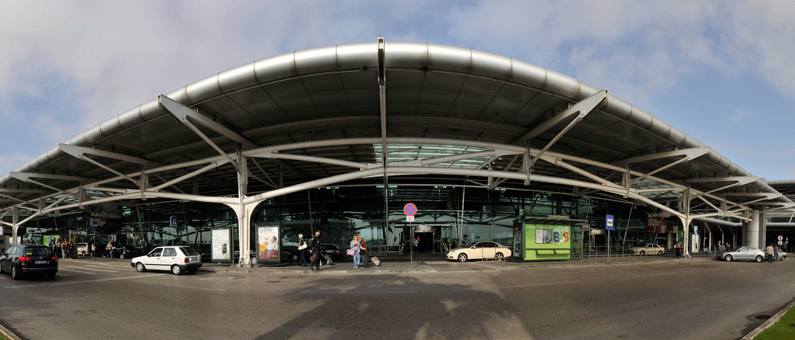 Airport connectivity
The city of Lisbon is easy to reach, as the airport is located only 7km from the city centre and it offers metro with connections to all the main urban districts, including the Estação do Oriente (Parque das Nações), Lisbon's central railway station.
At the same time, there are several other transport options, such as Shuttle Buses (aerobus), regular buses and Taxis. The Shuttle Bus (Aerobus), leaves from Cais do Sodré and goes directly to Terminal 2.
There is a bus to Lisbon airport three times a day for passengers travelling from the Spanish border region of Badajoz. For more information please check www.avanzabus.com.
When using private transport, Lisbon Airport is directly connected to a wide highway network which links the capital to the rest of the country.
Welcome to Porto Airport.
Visit Porto: a city of many charms!
Porto is the second-largest city in the country and due to its historical buildings, and many monuments, it is one of Portugal's main attractions.
With approximately 1.5 million inhabitants, this is a city of many experiences, which unite strong cultural traditions with moments of leisure. Porto offers a wide range of activities, monuments designed by world renowned architects, wonderful gastronomy and boat tours on the Douro river.
Not only Porto, but also the whole of the north is very popular, due to the four regions which have been classified UNESCO World Heritage sites (Porto, Guimarães, Douro and Foz Côa).It is also the area with the biggest flow of emigration, which makes VFR tourism an important factor for Porto airport.
As the Spanish region of Galiza is very nearby (60 km distance by car), 10% of passengers travelling through Porto Airport are estimated to be of Galician origin.
Porto Airport serves more than 26 airlines flying to 76 destinations all over Europe, Africa, North and South America. In 2016, 9.4 million passengers travelled through Porto airport, which equals an average occupancy rate of 85%, representing a growth of 16% over the previous year. Commercial transactions reached 79,068 (+ 11.7%) and available seats increased to 11,185,112 (+ 14.1%)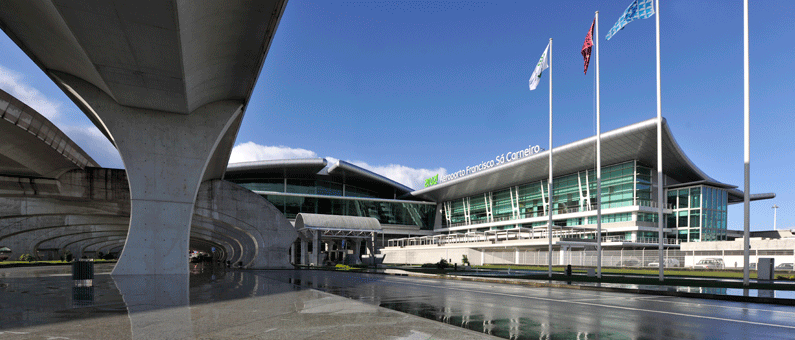 Connectivity
Porto is easily acessible and provides a wide network of public transportation. You can go from the aiport right to the city center by metro (approximately 30 minutes) or by taxi and be directly connect to the country's central railway network, which includes the historical Douro line trains.
When using private transport, Porto Airport is directly connected to a wide highway network which links the city to the rest of the country.
Welcome to Faro Airport
Faro, the gateway to the Algarve's fantastic beaches!
The Algarve is a lovely region in the South of Portugal. Well-known for its beautiful beaches and mild temperatures, the Algarve welcomes many visitors throughout the year.
Faro, which has around 47,000 inhabitants, is the centre for tourism and leisure activities in Portugal, and a gateway to the regions of the Algarve and Huela (in Spain).The Algarve region offers a big variety of unique landscapes and activities, such as beaches, award-winning golf courses and unique culinary delights.
Faro airport is one of the main airports for leisure tourism in Portugal, with over 7 million registered passengers in 2016 and more than 60 destinations throughout Europe. In 2016, 7,6 million passengers travelled through Faro airport, which equals an average occupancy rate of 87%, representing a growth of 18.5 % over the previous year. Commercial transactions reached 51,330 (+ 19.1%) and available seats increased to 8,045,882 (+ 19.3%).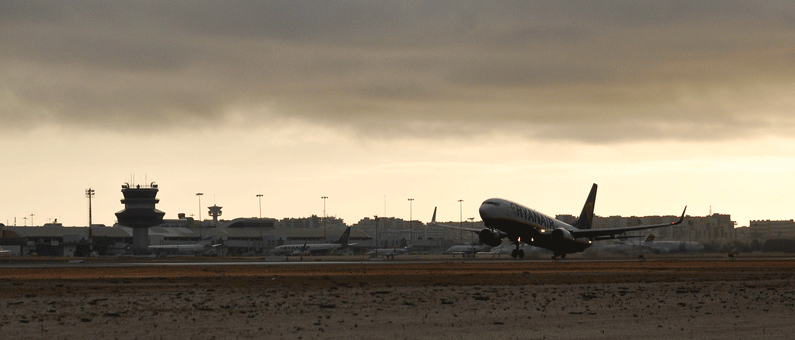 Connectivity
There are several daily bus connections between the airport and the city center – Bus Station. From the Bus Station you can choose between different local and national connections.You can also get taxis or take a train. The railway station, which links Faro to the most important towns in the Algarve, is located about six km form the Bus Station.
When using private transport, Faro Airport is directly connected to a wide highway network which links the city of Faro to the rest of the country.
Welcome to Beja Airport.
Alentejo, in the heart of Portugal!
The Alentejo is one of the fastest growing regions in Portugal and is famous for its historical and cultural influence.
With roughly 31,603 km² (33% of continental Portugal) and approximately 760,098 inhabitants, the Alentejo region offers plenty of leisure activities, culture, adventure and beaches – like the famous Costa Vicentina and Troia. It is also very close to the Alqueva dam, the largest artificial lake in Europe (250 km²), one of the region's main tourist attractions.
Alentejo Airport is located west of Beja and was inaugurated in April 2011.This terminal for passengers, cargo and aircraft maintenance is prepared to receive all kinds of operations at a high level of efficiency.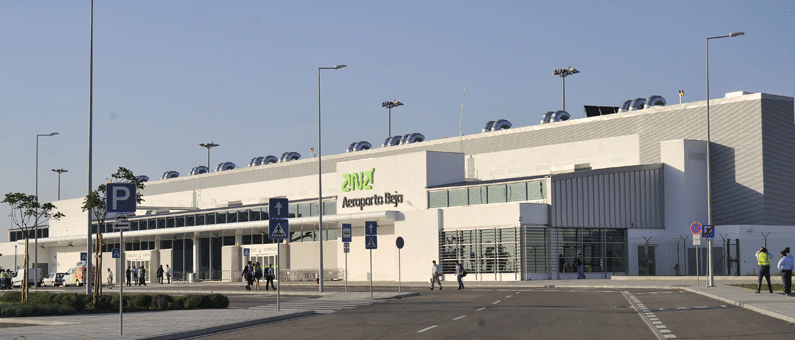 Connectivity
Beja airport, which is located 12 km from Beja, 170 km south of Lisbon and 150 km north of the Algarve, is directly connected to a wide network of highway that link Beja to the rest of the country.
Welcome to the Madeira Airports.
Madeira, a magical destination!
Madeira is an Autonomous Region of Portugal, consisting of 4 islands off the north-west coast of Africa. It is well-known for its subtropical climate, outdoor activities, hiking in the mountains, golf, surfing and diving.Throughout the year there are three tourism highlights: the wonderful New Year's Eve with its magical fireworks, filling the small island with light and colour, the amazing flower festival and the stunning Carnival.
It is a destination with a long tradition in tourism and the art of hospitality.The islands - Madeira and Porto Santo (also with an airport) are famous for their natural beauty, which makes them perfect holiday destinations.
The Madeira Airports is the main gateway to Madeira and it serves 25 airlines providing connections to more than 40 airports. In 2016, 3.1 million passengers travelled through Madeira airports, which equals an average occupancy rate of 82%, representing a growth of 14.6% over the previous year. Commercial transactions reached 27,388 (+ 12 %) and available seats increased to 3,840,650 (+ 15.2%).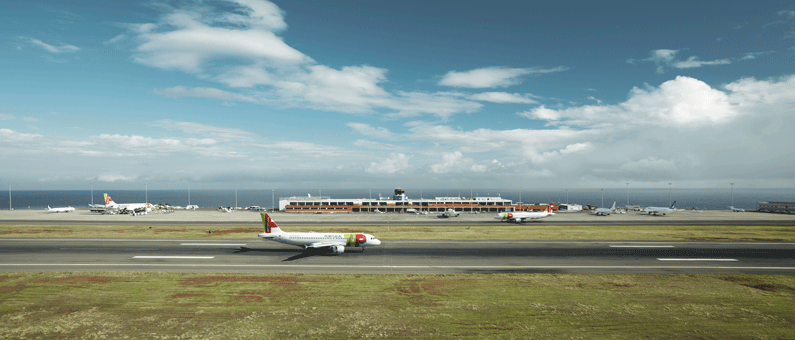 Connectivity
In addition to the direct bus lines, the airport shuttle or taxis, in case of private passenger transport, Funchal airport is directly linked up with the expressway network that connects Funchal with the rest of the Island.
Welcome to Azores Airport.
The Azores, stunning nature waiting to be discovered!
The archipelago of the Azores is composed of nine islands bathed by the North Atlantic.The Eastern group, comprising Santa Maria and São Miguel, the Central Group including Terceira, Graciosa, São Jorge, Pico and Faial, and the Western group made up of Corvo and Flores.
With its unique natural landscape, this is the perfect destination to reach out to nature, walk in the open air and enjoy the countless leisure activities at your fingertips.
With approximately 246,772 inhabitants and an insular territory of 2,325 km², the Azores are 1,600 km from the European continent and 2,454 km from the North American continent (Canada).
The 4 airports managed by ANA - Horta, Santa Maria, Flores and Ponta Delgada, serve 25 regular destinations, 22 of them in Europe and 3 in North America. In 2016, 1.9 million passengers travelled through Azores airports, which equals an average occupancy rate of 77%, representing a growth of 17.9% over the previous year. Commercial transactions reached 24,279 (+ 13.3%) and available seats increased to 2.526.371 (+ 16.7%). Ponta Delgada Airport is the regional hub of the Azores and the main gateway to that same destination.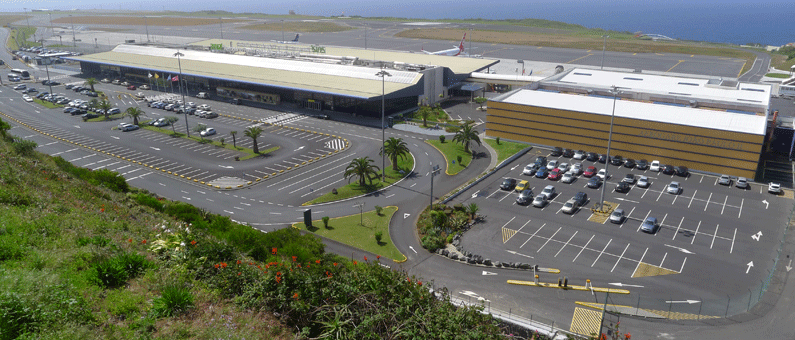 Connectivity
The airport is located less than 3 km from the city center of Ponta Delgada.